The London bus network has seen many improvements in recent years with new buses, more frequent services and improved accessibility.
How to Pay a Bus Fare in London
You cannot pay for your London bus fare with cash.
A single bus fare costs £1.50 for adults. You can pay this fare by using a Visitor Oyster card, an Oyster card, a Travelcard or with a contactless payment card.
If you only use buses and trams to travel around London, you will pay a maximum of £4.40 per day, as long as you pay with the same ticket or contactless payment card every time. 
For contactless payment cards issued outside the UK, please check with your card issuer as transaction fees or bank charges may apply.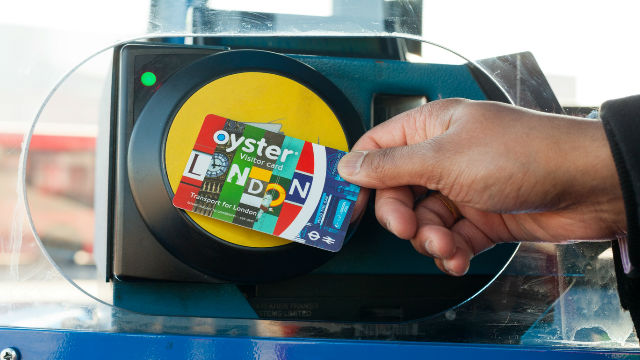 To pay for your bus fare simply touch your Visitor Oyster card, Oyster card or contactless payment card on the yellow card reader as you board the bus, or show the driver your paper Travelcard ticket. Remember to only use the card you wish to pay with and keep all other cards separate.
If you don't have enough credit on your Visitor Oyster card, you will be able to make one more journey on a bus. You must then top up your credit before you can use your card again.
For for more information about London bus fares, see the Transport for London website.
Buy Your Travel Ticket Before You Leave Home
Planning a trip to London? Beat the queues, save time and money: buy a Visitor Oyster card before you leave home. It will be posted to your home address and is ready to use as soon as you arrive in London.
The card costs £3 (non-refundable) plus postage. There are a range of special promotions available to Visitor Oyster card holders which will save you money at leading London restaurants, shops and entertainment venues, plus discounts on the Emirates Air Line cable car and Thames Clippers river buses.
An alternative travel smartcard is Oyster, which looks a lot like a Visitor Oyster card and is used in the same way. The advantage of an Oyster card is that you can add a 7 Day Travelcard to the ticket as well as travel credit. However, you can only buy an Oyster card when you arrive in London.
If you have further questions about Oyster, read through frequently asked questions about Oyster to find the answer.
How to Add More Credit to Your Visitor Oyster Card
If you run out of money on your Visitor Oyster Card, it's easy to add more credit at:
Please note, you can't top up your Visitor Oyster Card online.
More Oyster Questions?
Still not sure which travel ticket you need to buy? Unclear on how to use your Visitor Oyster Card? Read our Oyster FAQs section for the answer to these and other Oyster-related questions.
London Bus Passes
Bus passes are valid for the whole bus and tram network in London (unlike the Tube there are no fare zones).
One Day Bus and Tram Pass
With this pass you have unlimited travel for £5 on buses and trams only. You can travel for a single day, up to 04:29 the following day.
2015 London Bus and Tram Pass Prices (Standard Adult Fares)
7 Day: £21
1 month: £80.70
1 year: £840
London Bus Fare Concessions
Children under the age of 11 travel free on buses and trams. Find out about other child and student discounts and concessions.
Freedom Passes provide free travel for wheelchair users, as well as for older and disabled persons. Find out about adult discounts and concessions
Contactless Payment on London Buses
You can now pay for your London bus fare using a UK-issued contactless payment card.
You just need to touch your card flat on the yellow card reader as you board a bus – exactly the same as when you use a Visitor Oyster Card. Look out for the contactless symbol – remember to only touch one card on the card reader. Find out more about paying with a contactless payment card.
If your contactless payment card has been issued outside the UK, check the TfL guide before you use your contactless payment card to pay for a London bus fare. For any international transaction fees or charges that may apply, please check with your card issuer.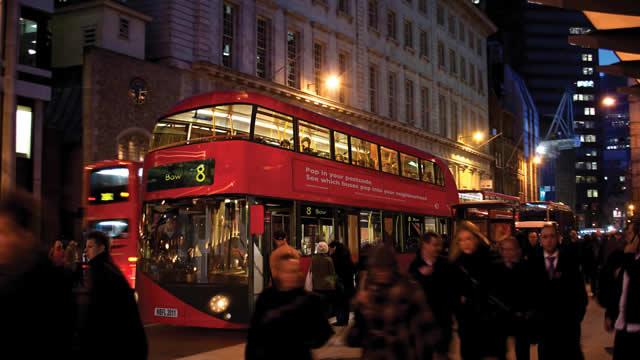 How to Ask the Driver to Stop a London Bus
Buses only stop at designated bus stops. They do not stop on request between bus stops. 
To ask the driver to let you off at the next bus stop, press one of the red buttons which can be found on the upright metal posts throughout the bus. You will probably hear a bell and see a "bus stopping" light appear at the front of the bus.
London Bus Information
The Central London Bus Guide will be sufficient for most travellers. This map is available from TfL Visitor and Travel Information Centres or to download from our Free London Travel Maps page.
You can also plan your bus route online with Transport for London's Journey Planner.
Night Buses in London
London's buses run throughout the night. Night bus services cover the period between the close of the Tube and the start of daytime bus services. In addition, many London bus routes run for 24 hours.
If you're not familiar with the routes, head to Trafalgar Square (the hub for night buses) or check any bus-stop information board. As you'd expect, services are less frequent during the night. Night buses stop on request only: so you'll need to indicate your stop clearly to the driver when boarding or alighting.
London Bus Tours
London bus tours provide a unique opportunity to appreciate the full architectural splendour of London's famous streets and monuments. Tour guides offer historical background and interesting facts, with commentaries available in several languages.
Some regular bus routes are good for sightseeing too – try routes 9, 14, 15 and 22. The New Routemaster bus featured in the James Bond film Skyfall and runs on routes 8, 9, 10, 11, 24, 38, 148 and 390.
Accessibility Information
All 8,500 London buses (except heritage Routemaster buses) are low floor vehicles. Bus travel is free for wheelchair users.
Low-floor buses enable all customers, including people using wheelchairs, people with baby buggies (prams/strollers), people with assistance dogs, and people with other mobility impairments to get on and off easily. Every bus also has a retractable ramp, which must be in full working order at all times.
On all buses, there is room for one person using a wheelchair. Wheelchairs can be accommodated up to a size of 70cm wide (28 inches) by 120cm long (47 inches). Wheelchair users have priority over everyone else for use of the wheelchair space. There is no limit on the number of assistance dogs allowed on the bus, as long as there is space.
See Transport for London's Accessibility guide.
Bus or Coach To and From London
Coaches are a great option for cheap travel to London from almost anywhere in the UK or Europe. Read about Coaches to London.