1. Forget the Tube map
During Notting Hill Carnival, some Underground stations are temporarily shut to avoid congestion. If you want to avoid wandering the streets of West London for hours, don't "wing it" – plan your journey home in advance using Transport for London's Journey Planner. And don't even think about driving.
2. Ditch the heels
You'll be on your feet all day, so comfort is key. Think closed-toe flats (flip-flops will probably break and aren't the best for wading through rubbish at the end of the day). But don't forget: it is carnival! Leave the pastels in the wardrobe and bring out the colour. Accessorise with flags, whistles, crazy hats... anything goes.
3. Pack your carnival essentials
Tissue in case the portaloo has run out? Check. Wet wipes for your post-jerk chicken fingers? Check. Bottle of water to hydrate after wild dancing? Check. The carnival route map so you can avoid barricaded roads? Check. Sunscreen and sunglasses for the suitably Caribbean-style sunshine? Check. Stress-free carnival: sorted.
4. Take the kids
Some people would baulk at taking the family to carnival, but plenty do and have a fantastic day. Our advice would be to go early on Sunday, which is Family Day and when the children's groups parade – it's quieter and more relaxed than Monday. If possible, leave the pram (stroller) at home, but do have enough adults to carry each toddler through the crowds when they get tired. Bring earplugs just in case.

5. Meet in advance
Finding people at carnival can be tricky, with road closures and the streets full of partying people. Try to meet your friends elsewhere and travel in together – and take your mobile phones, as you may get separated in the crowd or find yourself swept into the parade!
6. Find a good spot
If you want to get good photos of the parade and feel part of the action, location is everything. Stand by the judges' platform and you'll see the groups really pull out all the stops, but for a more informal, interactive vibe, secure a front-row spot along the main route. There are always lively sections and quieter spots so it is possible to find the right place for you.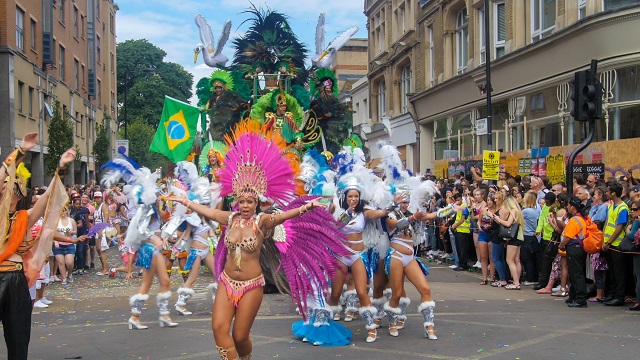 7. Don't forget the sound systems
On your first carnival visit it's easy to think carnival is all about the parade, and never leave the route. But down the side streets you'll find a whole other side to carnival: the sound systems. Blasting out everything from soca, reggae and calypso to dance, house and dub, these pop-up parties each have their own USP – so do your research beforehand and arrive early as some sound systems are so popular there's crowd control.
8. Eat Caribbean
At carnival, you're never far from the delicious smells of a smoking barbecue – and jerk chicken and rice is the dish of the day. Go easy on the sauce if you don't want a mouth of fire. Other favourites include goat curry, and ackee and salt fish. Veggies: look out for vegetarian patties, curries and chips.
9. Stay safe 
Notting Hill Carnival is a lively, fun and welcoming festival, but (like with any huge event) staying aware and alert is important. Avoid pickpockets by keeping your valuables out of sight and out of easy reach. If you can, steer clear of congested streets or wait until the blockage has cleared. And if you have any worries, inform a police officer – you're never far from one at carnival.

10. Join the after-party
If your feet haven't given up on you, continue the festivities at one of the many carnival after-parties in the area and across London. And book the next day off work if you can!
Find full event details for Notting Hill Carnival.