Notting Hill is one of London's most desirable areas. You can find everything from world-famous events and restaurants, to cutting-edge galleries and theatres in Notting Hill. Perhaps you'll even meet a film star in a travel book shop.
Travel to Notting Hill
Notting Hill Gate is the main Tube station in the area and is served by the Central line, the District line and the Circle line. Alternatively, use Westbourne Park station or Ladbroke Grove station on the Hammersmith and City line and Circle line, then walk along Portobello Road towards Notting Hill Gate.
There are also a number of London bus routes servicing Ladbroke Grove and Notting Hill Gate. Download a free London travel map and plan your journey in advance.
If you're going to be in London for more than a day, it's worth buying a Visitor Oyster Card before you arrive. The Visitor Oyster Card is delivered to your home and is one of the easiest ways to get around London. If you do not have a Visitor Oyster Card, but still plan to travel around London for more than a day, buy an Oyster card at the Tube station. Learn more about Oyster Cards.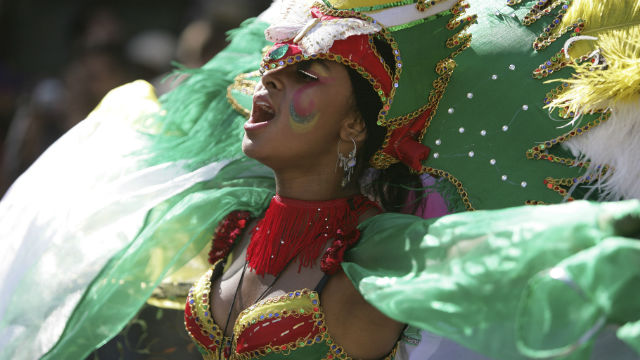 The Notting Hill Carnival
Every August Bank Holiday millions of people celebrate Europe's biggest street festival - the Notting Hill Carnival. The Notting Hill Carnival has a Caribbean festival theme, bringing a welcome splash of colour to West London. A huge parade of floats and performers runs along the Notting Hill Carnival route, filling the streets with intricate costumes, steel bands, marching bands, Calypso music and a variety of mouth-watering food. 
It is recommended that you prepare yourself properly for the festivities as the Notting Hill Carnival covers a wide area. Some stations are closed and some are disrupted during the carnival weekend so plan your journey in advance. Make sure you have a map of the carnival route, plus information about public toilets, bars, sound systems and medical centres.
It's worth checking the London weather forecast ahead of the carnival too. Carry a pair of sunglasses, an umbrella and a bottle of water so you'll always be ready.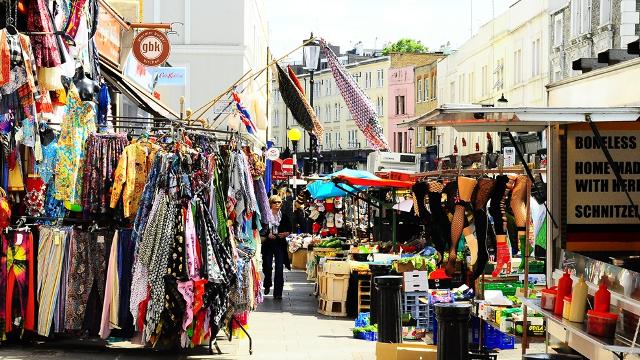 Portobello Market
The popular Notting Hill market is known as Portobello Market, so called because it runs along Portobello Road. Pay a visit to one of the best markets in London and you'll discover something interesting to take home with you. 
The main market days are Friday and Saturday, although a smaller market takes place from Monday to Thursday. On weekdays, locals buy fresh fruit and vegetables here. Second-hand goods are included on Friday but Saturday is the busiest market day when all the antiques market stalls are in position and the bargain hunters arrive. There are also some great clothing stalls to find along the way. Nearly a kilometre long, this bustling West London market offers an endless variety of merchandise – dive in and you're sure to find a unique souvenir. 
Notting Hill Movie
The Notting Hill movie, directed by Richard Curtis, was released in 1999. The romantic comedy starring Julia Roberts and Hugh Grant was a box office hit and Notting Hill became a popular place to visit as much of the film was shot in and around the area. Notting Hill has become one of the Top 10 movie locations in London for film fans, especially those who want to recapture the magic between the lead characters, William Thacker and Anna Scott. 
Take the Notting Hill Film Tour and see some of the famous locations that were integral to the film, as well as learn about the history of the area.
Things to see and do in Notting Hill
Find more than 12,000 items that chart the evolution of consumer culture at The Museum of Brands, Packaging and Advertising, one of London's quirkier museums. Notting Hill is also a fantastic place to find small, independent art galleries such as Salon Contemporary and Graffik – a gallery dedicated to urban art.
The crowning jewel in Notting Hill's entertainment scene is The Gate Theatre which, despite its tiny size, has gained a global reputation for fostering a wealth of new theatrical talent. You can also see a fantastic mix of theatre, dance and concerts at The Print Room, an arts venue that has won many awards. For a diverse mix of comedy, literary and musical performances, check out The Tabernacle, which is also a bar and kitchen.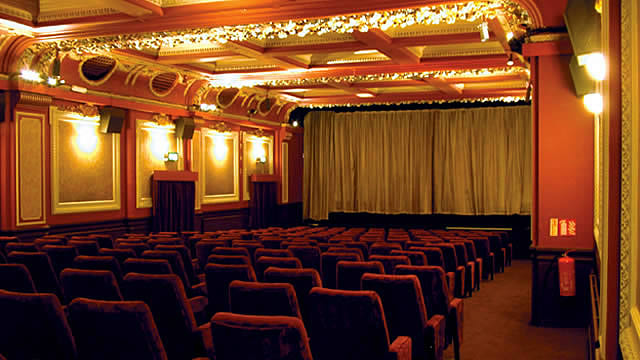 To see the latest movie releases in luxurious surrounds, The Electric Cinema on Portobello Road is well known for providing a comfy movie-going experience due to the plush sofas, footstools, side tables, and bar service provided.
As well as the impressive Notting Hill market days along Portobello Road, there are many more Notting Hill shopping opportunities to enjoy. Spend time browsing in Daylesford Organic for wholesome goods, or in The Humingbird Bakery for delicious cakes; find your next great read at the Notting Hill Bookshop; and stock up on top cosmetic products and treatments at Space NK Apothecary.
Restaurants in Notting Hill
Notting Hill is a hub for fashionable places to eat and drink. The Notting Hill restaurant scene includes a number of varied options: 
For doughnuts and coffee, seek out The Electric Diner. 
Bars, Pubs and Clubs in Notting Hill
Uncover some of the Notting Hill bars and pubs and discover more of that famous London diversity. For a quiet pint in Notting Hill, head to traditional pubs such as the Hillgate, The Cow the Ladbroke Arms and the Cock and Bottle. The Elgin pub is also a popular pub which hosts a diverse mix of live music throughout the week. 
If you're searching for something more glamorous, sashay your way to Beach Blanket Babylon, where you'll find some seriously tasty cocktails. At Trailer Happiness you'll find a retro Californian hideaway, and for the best Notting Hill club, get down to Notting Hill Arts Club  
Accommodation in Notting Hill
Notting Hill's convenient location close to Central London and the Westfield London shopping mall means it is one of the great places to stay in London. For a budget boutique hotel in Notting Hill, book at the London House Hotel or Garden Court Hotel. If you need a bit more space, try the Grand Plaza Serviced Apartments. For a peaceful sleep in a quiet garden square, stay at the Shaftesbury Premier London Notting Hill.