1. Maison Bertaux
Established in 1871, Maison Bertaux claims to be London's oldest patisserie. As well as boasting a rich history, the Soho institution offers a mean selection of sweet treats, including cream cakes, French fancies, fruit tarts, eclairs and florentines. 
2. Ms Cupcake
London's first entirely vegan bakery, Ms Cupcake doesn't let a little thing like no butter, eggs, milk, cheese or honey stand in her way. Head down to the Brixton outlet to stock up on her creative results: including freshly baked cupcakes, cookies, savouries and more besides.  

3. Konditor & Cook
Everyone raves about Konditor & Cook's Curly Whirly cake – and with good reason. Below its vanilla bean frosting, decorated with swirls of dark chocolate ganache, lies a rich, dark chocolate sponge; heaven in a slice. Other top creations include the Whiskey Bomb, a veritable work of art, and the dark and intense chocolate brownies.
4. Crazy Baker
If you've never experienced a "whoopie pie", the Crazy Baker - a.k.a. Sophie Grey - will show you how it's done. Head to her bakery-cum-cafe in Kensal Green to try one for yourself – but try not to get distracted by the artisan bread, cupcakes, and pastries whilst you're there (no easy task).
5. Bea's Cake Boutique
Previously named Bea's of Bloomsbury, Bea's Cake Boutique lures customers in with its creamy cupcakes, handmade marshmallows, mini meringues and all the other sweet dreams that emerge from its open-plan pastry kitchen. The cake shop has five branches across the capital, in Bloomsbury, Marylebone, St Paul's, Farringdon and Maida Vale.
6. Primrose Bakery
Based in Primrose Hill, Kensington High Street and Covent Garden, Primrose Bakery knows that adults love cupcakes as much as kids. So, in addition to its classic cake range, grown-up boys and girls are also allowed to try cocktail cupcakes – laced with Margarita, Gin & Tonic and Mojito! Want to learn the chef's secrets? Check out the Cupcake Masterclasses, led by its expert head chefs.
7. Betty Blythe
Vintage tearoom Betty Blythe brings the golden 1920s to life with its beautiful flowered china, black and white photos and vintage dressing-up box; a must for any hen party, baby shower, or kids' party. Pop in for a taste of Betty's gingerbread biscuits or make an afternoon of it with the Traditional Victorian Afternoon Tea or Glamorous Great Gatsby Afternoon Tea. Flapper dress/top hats are optional, but strongly recommended.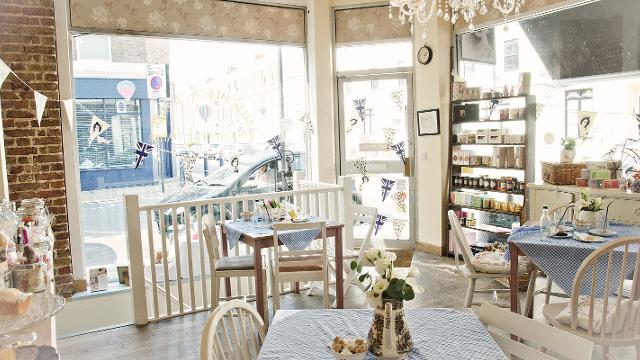 8. Hummingbird Bakery
Home of the red velvet cupcake, Hummingbird Bakery has been serving up delicious, American-style home-baked treats in London since 2004. Succumb to the temptation with a visit to the original Hummingbird on Portobello Road in Notting Hill, where you can sample the decadent range of cupcakes, layer cakes, brownies, pies, cheesecakes and more. Hummingbird also has branches in South Kensington, Soho, Spitalfields, Islington and Richmond.
9. Cutter & Squidge
Just yards away from its previously successful pop-up space, Cutter & Squidge's Soho home is full of sweet delights. Choose from a wide selection of its speciality biskies, or opt for vegetarian marshmallows, dream cakes, honeycomb or its award-winning salted caramel. It also has a Secret Garden in its basement, which is perfect for a quietly indulgent bite to eat.
10. St John Bakery
Raspberry, rhubarb, peach, strawberry, salted caramel custard... just thinking about the fillings in St John's fresh doughnuts is enough to make you drool. That explains the queues outside St John Bakery on Druid Street every Saturday morning. Our favourites also include the freshly baked madeleines, flaky eccles cakes and rich brownies.