Trader Vic's
Descend into a tropical getaway in Mayfair as you escape into a world of South Sea dining, at Trader Vic's. Start with traditional finger food, pick up a salad or a soup, and for main opt for a Trader Vic favourite such as Beef & Reef or Scottish lobster. Book now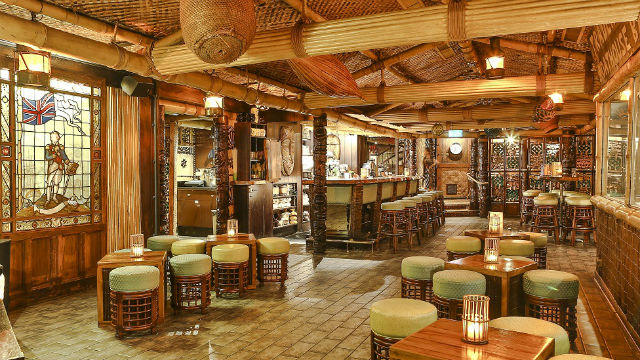 Bubba Gump Shrimp Co.
Based on hit film Forrest Gump, this Southern American eatery is themed on its main characters and its Alabama location. It's all about the shrimp at Bubba Gump Shrimp Co., with lots of crustacean creations; but there's plenty for all the family to enjoy, from grilled steaks and salads to jambalaya. Food surely Bubba would be proud of. Book now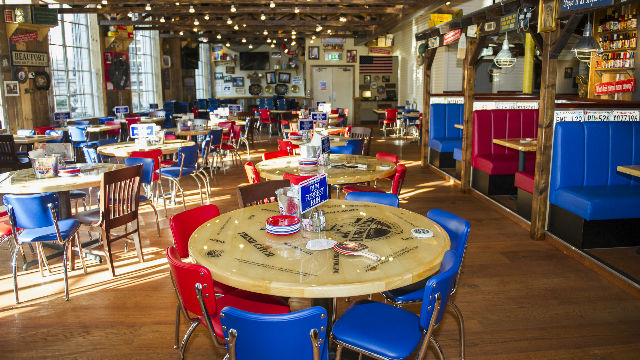 Rainforest Café
Take your children to the Rainforest Cafe where they'll go wild experiencing the sounds of waterfalls, lightning and rain, and spot animals and real tropical fish. Close to the West End's many theatres, shops and attractions, this family restaurant offers a two-course kids menu and activity packs. Book now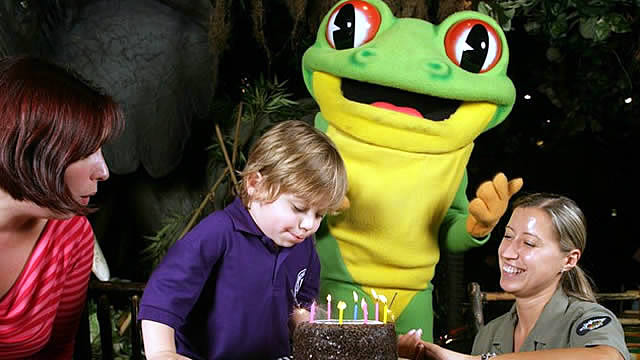 Archipelago
Golden Buddhas, dwarf palm trees and giant peacock feathers give Archipelago's interior a quirky feel, and the menu "staples" such as crocodile, kangaroo, and wildebeest certainly raise an eyebrow or two; but the restaurant really reaches out to intrepid diners with options such as python carpaccio and pan-fried crickets. Book now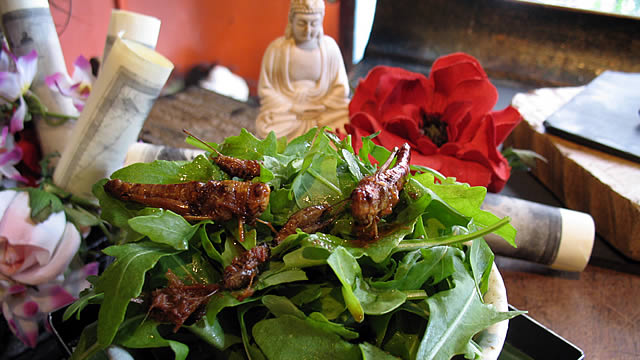 Beach Blanket Babylon
Dining at Beach Blanket Babylon is like stepping between a Georgian English manor house and a French chateau. If the vintage furnishings, imposing statues and all-round extraordinary décor don't inspire awe, the seasonal, modern European food will. Book now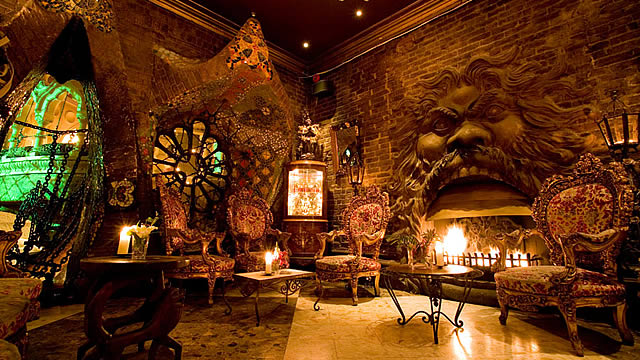 Bel Canto
Mix arias with appetisers at Bel Canto. This opera-themed restaurant near Hyde Park serves up French fine dining with a difference: it's delivered by waiters singing opera classics. So, sit back, relax and enjoy the music – don't worry, you'll not have to sing for your supper. Book now
Brunswick House Cafe 
The worlds of contemporary and traditional Britain come together at this hidden gem café, bar and restaurant. Brunswick House Cafe's succinct menu is inspired by local produce, and the furniture and interior design is all up for sale. Book now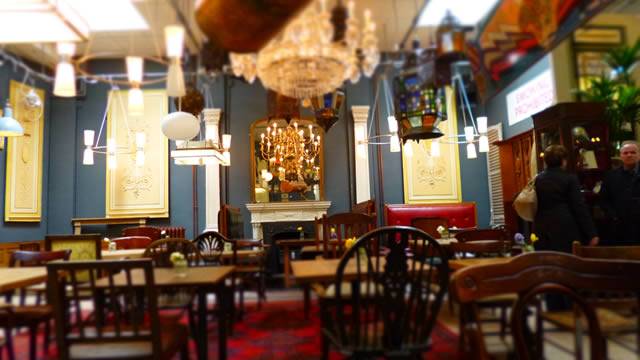 Circus
With futuristic décor courtesy of British designer Tom Dixon, Circus restaurant and cocktail bar in the West End has a decadent feel. Glamorous eating and drinking is not all that occurs though, as dinner is punctuated by various surprise cabaret and circus acts who parade around on the tables. Book now
Inamo
This Asian fusion restaurant in Covent Garden (with a sister eatery in Soho) boasts a pioneering interactive ordering system projected onto the table. At Inamo, you can place orders via a 3D menu, choose from a selection of virtual tablecloths, find out about the local neighbourhood and even order a taxi home, all from the comfort of your seat. Book now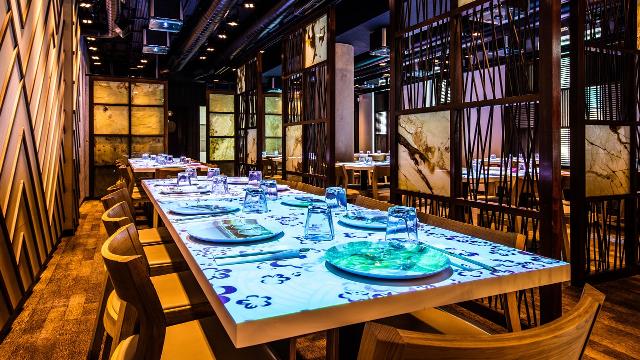 Mari Vanna
If you've ever pondered what it would be like to wine (or vodka) and dine at Grandma's house in old Russia, then Mari Vanna will answer all your desires. A remarkably authentic slice of Soviet era cuisine and comradery. Book now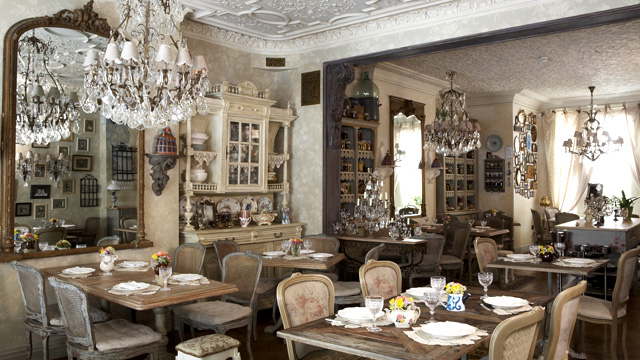 Sarastro
A restaurant that is anything but quiet,
Sarastro
is "the show after the show" thanks to the musical entertainment played out live amongst the smiling diners. The drama continues on your plate with Turkish and Mediterranean flavours to entertain your taste buds.
Book now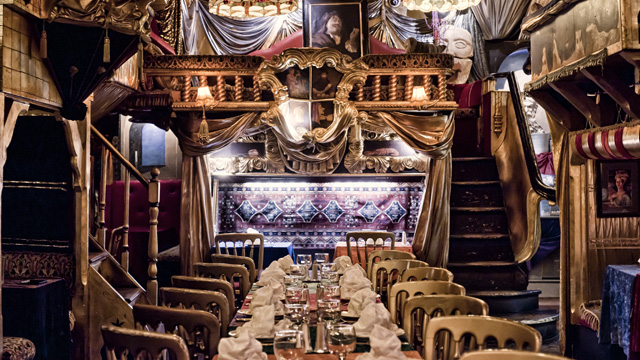 Shaka Zulu
Get a taste of South Africa at Shaka Zulu, a lively restaurant, bar and nightclub in Camden. The South African flare for exotic grilled meats, unusual cocktails, ostentatious décor, and infectious toe-tapping music fills this Camden Market basement venue with constant thrills. Book now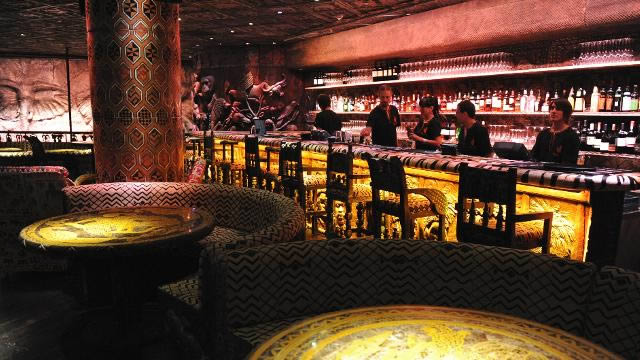 Sketch
Sketch turns eating and drinking into a whole new experience. The hardest part is choosing between the elegant, two Michelin-starred restaurant, Lecture Room; the woodland-themed lunch venue, Glade; the brasserie-style Gallery; and The Parlour, an eccentric patisserie, restaurant and bar. Book now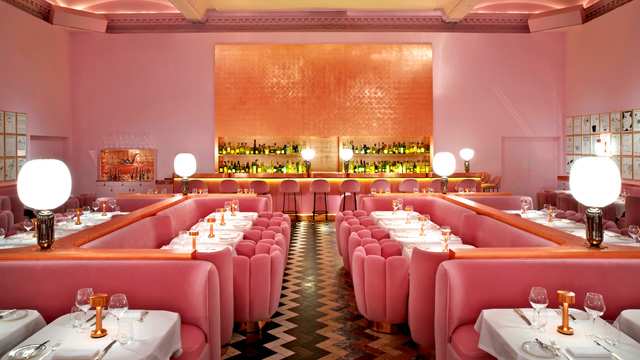 The Café at Hotel Café Royal
Head here in the daytime, and you'd be forgiven for thinking The Café at Hotel Café Royal is an ordinary London teahouse. However, come the evening, this decadent Café becomes London's first dedicated dessert restaurant, presenting a huge array of desserts on inventive tasting menus. Book now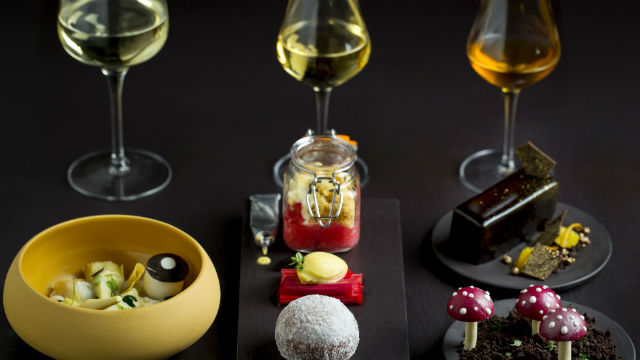 The Piano Works
Tuck into steaks, ribs and sliders as you listen to live music requested by you and the rest of the audience in a Victorian warehouse, at The Piano Works. Part live jukebox, part restaurant, this music-lovers' favourite will have you singing long into the night. Book now
Bounce
Take time out from working your way through the wide-ranging pizza menu for a game or two of ping pong at Bounce, in Farringdon and Old Street. This table tennis themed restaurant and bar is the perfect place for groups – with ping pong available to book in advance for more than six people.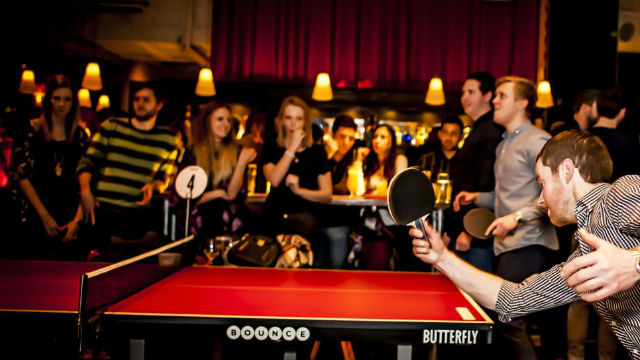 Dans le Noir?
At Dans le Noir? restaurant in Clerkenwell, your dining experience takes place in complete darkness. Served by blind waiters, the meal challenges your sense of taste and smell and the surprise menu encourages you to educate your palate.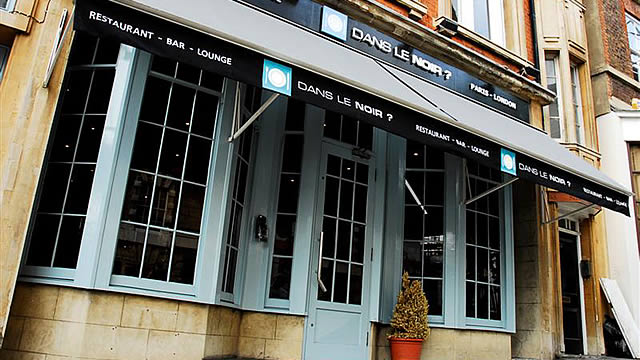 HIPCHIPS
Explore a world of flavour combinations at HIPCHIPS, dedicated to the humble crisp. You'll be served a variety of crisps straight from the kitchen on a conveyor belt – just grab sweet or savoury crisps and start to dip into one of the many weird and wonderful dips, from katsu curry and Peruvian ceviche to chocolate salted caramel or cheesecake.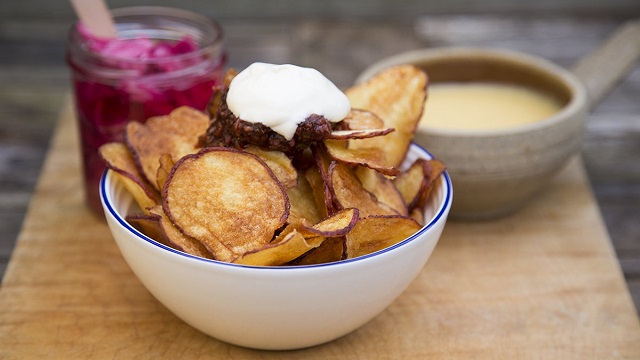 The Little Yellow Door
Step into a fictional flat share in West London at The Little Yellow Door. This unusual Notting Hill bar pop-up restaurant is set out like a flat, where you can mingle with others or find a cosy corner for cocktails, bar food, or a Friday dinner. The volume is turned up on Saturdays with a house party; while the Friday night menu changes regularly based on "new housemates'" nationalities.