Find London's most romantic restaurants; whether you're looking for the perfect place for a first date, a special anniversary dinner or the best restaurants to propose in London. Or, when 14 February arrives, why not book a table for a Valentine's Day treat?
Best London Restaurants With a View
Aqua Shard
Wow your companion with stunning views from the 31st floor of London's tallest building at Aqua Shard. Watch the sunset with a cocktail from the spectacular Atrium Bar before settling down to the British menu at a table by the window – the only problem is how do you interrupt your partner from savouring the views? Book now
Galvin at Windows
Head way up to the 28th floor of Hilton Park Lane, where Galvin at Windows fuses 1930s decor with modern French cuisine. Few Michelin-starred restaurants have views to match that of Chris Galvin's restaurant, so it's the perfect place to make a statement to your loved one. Book now
OXO Tower Restaurant
Rise up to the eighth floor of the unmistakable OXO Tower, where you'll find the OXO Tower Restaurant. With its alluring views of The City and beyond, a menu of modern British classics and an intimate atmosphere, the restaurant is the perfect lovers' sanctuary. Book now
Sky Garden Restaurants
Take in the views from north of the river as you secure a table at one of Sky Garden's restaurants for a special meal. Perched at the top of 20 Fenchurch Street (nicknamed locally as the "Walkie Talkie"), the elegant Fenchurch Restaurant and more laid-back all-day Darwin Brasserie serve contemporary British fare amongst the ferns and palms of London's highest public garden.
Best First Date Restaurants in London
Berners Tavern
Take your date's breath away at Berners Tavern, where the spectacular dining room will have them gawping in awe. Follow this up by ordering a creatively crafted cocktail and innovative dishes from Jason Atherton's menu, and you should be guaranteed a second date.
Bob Bob Ricard
If you truly want to impress, book a cosy banquette at Bob Bob Ricard and order some bubbly without even asking – all you need to do is press a button, and hey presto… Your date will be fooled into thinking you're well known in these parts. If that failed to work, the modern takes on British and Russian classics and lavish decor should do the trick, or at least provide a talking point.
Inamo Soho
Do you want to show off your fun side? Take your date to Inamo Soho where you can use a host of technological features to inject some interaction into your meal. Break the ice by customising your own virtual tablecloth and watch the chefs prepare Asian fusion dishes on camera. Book now
Best Restaurants for Anniversaries
Alain Ducasse at The Dorchester or Restaurant Gordon Ramsay
Make it clear to the love of your life the importance of your special day in the calendar by going big with your show of affection. There are plenty of Michelin-starred restaurants in London, but if only the best of the best will do, then book a table at one of the two restaurants in London that have three Michelin stars each: Alain Ducasse at The Dorchester and Restaurant Gordon Ramsay.
Kitchen Table
Embark on a culinary journey at this intimate Michelin-starred eatery. Kitchen Table is a restaurant within a restaurant (it's found at the back of Bubbledogs) that serves a tasting menu of seasonal specials created by chefs right in front of your eyes. Restaurants in London rarely come as exclusive and intimate as this, as it will be just you and a handful of others tucking into the creative dishes on the daily changing menu. Book now
Sketch
Anniversaries should be memorable, and few restaurants leave a lasting visual impression like Sketch. Pierre Gagnaire and Mourad Mazouz's quirky collection of restaurants and bars housed within one building each has its own distinct, quirky style. Enjoy a cocktail in the fairytale setting of The Glade or the cosy Parlour, before indulging in modern European dishes at artist-inspired The Gallery or a tasting menu at Michelin-starred Lecture Room & Library.
Best Restaurants for Proposing
Bateaux London Thames Dining
Go down on one knee as you pass London's iconic landmarks on a romantic Thames dining cruise with Bateaux London. With floor-to-ceiling windows, dinner cooked on board and live entertainment, it will certainly be a night to remember. Book now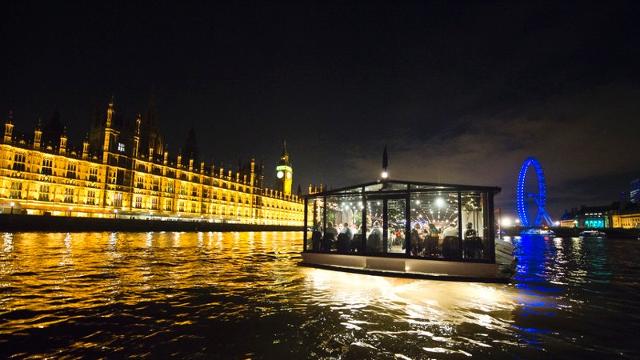 Clos Maggiore
Let the stunning decor and intimate atmosphere of Clos Maggiore set the scene for popping the biggest question of your life. Widely regarded as one of London's most romantic restaurants, this Covent Garden hideaway is the perfect place to propose. Whether you're savouring the classical French fare in the main restaurant or in the atmospheric courtyard, they'll surely not fail to be overwhelmed by the intimacy of this classy eatery.
The Ritz Restaurant
Make your engagement night even more memorable by booking into one of London's most romantic restaurants. Proposals don't come much better than those at The Ritz Restaurant, which has seen countless over the years. With a magnificent dining room adorned with frescoes and chandeliers and live string or piano music, the setting is perfect for popping the question. Book now
Start your evening with a drink at one of London's top champagne bars, sip a creation from a star mixologist at a luxurious cocktail bar, or chat over a fine vintage at a one of the city's specialist wine bars. If you're looking for something a little out of the ordinary, book into one of London's quirky restaurants.