When darkness falls across the city, find yourself a quirky basement bar, secret bar or themed bar to enjoy.
Trader Vic's
Enter the exotic island getaway of Trader Vic's and descend into a tropical world. This Mayfair outpost of the worldwide restaurant and bar chain boasts a fully-stocked bar, which includes the legendary Mai Tai cocktail. Sip on a Mai Tai, or on a whole range of other cocktails from the menu, all the while taking in the décor reminiscent of the South Seas, complete with carved tikis and cane chairs.
Cahoots
Don your best vintage outfit and step back in time at Cahoots, a charming 1940's themed bar in Soho. This former bunker has been transformed into an underground station bar complete with trains and sandbags. Sip on dazzling cocktails as you soak up the atmosphere of post-war Britain, accompanied by jazz, swing, rock 'n' roll, electro-swing and vintage discs.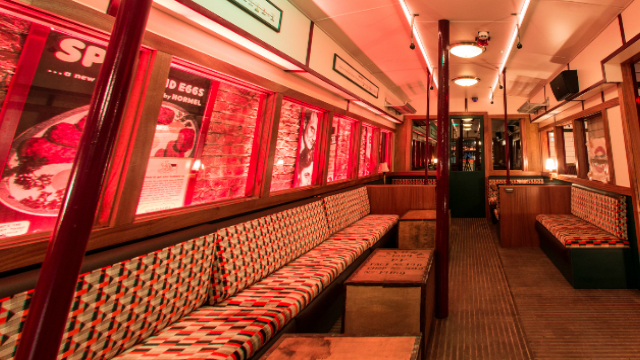 The Attendant
Sit back, relax and watch exciting food and drinks being created in the unique underground surroundings of the former Victorian gent's lavatory, The Attendant. Inspired by its past, the bar's original porcelain urinals are now used as inspired coffee benches, complete with green seating to match the Victorian tiling.
WC – Wine & Charcuterie
Sample fine wine and cheese in the underground Victorian setting of WC - Wine & Charcuterie. Located underneath Clapham Common station, this former Victorian lavatory has preserved the original wall tiles and floor mosaics from its past and cubicle doors have been laid flat and turned into tables. Choose from extensive wine list and accompany with a delectable selection of cheese and meat from around the UK and Europe.
Barts
Can you keep a secret? Travel back in time as Bart's brings 1920's Chicago to 21st-century London. Ring the bell, offer the secret password and step inside to sample a riot of cocktails and quirky cartoon decor. Choose from an extensive list of illicit cocktails enjoyed by the lawbreakers of London and keep your eyes peeled for secret cocktail menus hidden within work or literature.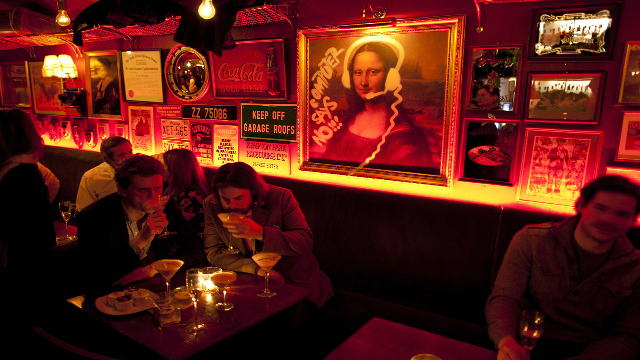 The Mayor of Scaredy Cat Town
Ask to see The Mayor of Scaredy Cat Town at this ordinary looking café in the City of London and an entrance down to the bar will provide a very unique experience (we won't ruin the surprise). Find a darkened room with luscious cocktails, beers and bar snacks. When you're done, don't forget to leave through the secret exit. Be in the know and impress your friends with tales from this secret bar.
Worship Street Whistling Shop
Sip cocktails from a bygone era at late 19th-century-themed bar, Worship Street Whistling Shop in Shoreditch. The décor is inspired by Victorian drinking lounges, complete with bespoke lampposts. Sample old time flavours like marmalade and rhubarb concocted from ingredients produced in house. Beyond cocktails there is a full range of fine wines, craft beer and sparkling wines.
Callooh Callay
Sip unusually-named cocktails out of a gramophone at Callooh Callay, an unusual bar in Shoreditch. Journey through a magical wardrobe where you'll find fun vibes and quirky décor, a great place for a fun night out with friends. Toilets are hidden behind secret doors and menus are kept in old cassette cases.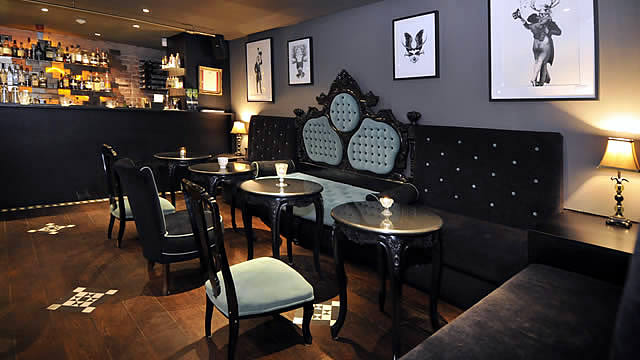 Evans & Peel Detective Agency
You can be forgiven for thinking that you've walked into a scene from a 1930's crime novel at Evans & Peel Detective Agency, a hidden bar behind a bookshelf. Sample cocktails made with maple bacon and tobacco-infused bourbon, or tequila with smoked oranges. Take your cocktails home in vintage wooden cigar boxes containing bottles of their finest mixes and instructions to concoct your favourite drink.