Halloween in London
From to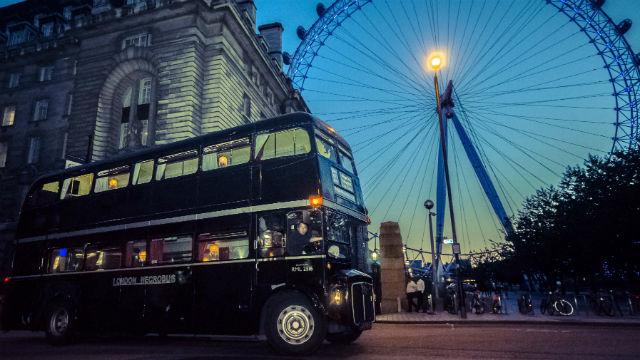 Step inside terrifying dungeons, discover London's gory history, go ghost-hunting and take part in chilling activities with Halloween events and scary attractions in London.
Read More
About
See a scarier side to London this Halloween, with our guide to the spookiest things to do in the capital on and around 31 October.
From haunted venues and bone-chilling attractions, to special Halloween tours and gripping family events, plan your Halloween in London with our roundup of gory ideas and horrifying activities.
Halloween events in London
•Explore museums and galleries after dark with Museums at Night's Halloween-themed activities.
•Look out for spooky goings-on at the Tower of London, Hampton Court Palace and Kensington Palace, as these Historic Royal Palaces usually host Halloween-themed events.
•Join a very mortal talk, tour or workshop, including visits to London's most famous cemeteries, during the London Month of the Dead.
•Dare to enter one of the Fright Nights live action scare mazes at Thorpe Park.
Scary London tours and Halloween ghost hunts
•Discover the dark secrets and gory history of London with The Ghost Bus Tours or a Tales of Plague guided walk.
•Retrace the infamous murderer's footsteps with Jack the Ripper Ghost Walks and see his story come to life with The Jack the Ripper Tour with Ripper-Vision.
•Go on an unnerving ghost hunt in London with Haunted Happenings or Fright Nights London.
London Halloween shows
•Book tickets to The Woman in Black: one of the West End's longest-running plays, this show will have you on the edge of your seat.
•Catch a West End musical featuring monsters, witches and mysterious characters this Halloween, such as The Phantom of the Opera and Wicked.
Frightening London attractions
•Explore The London Dungeon, where London's horrible history and terrifying characters come vividly to life.
•Run for your life through the Covenant spaceship in Madame Tussaud's Alien: Escape experience.
•Go on a mind-derailing journey through fear with Derren Brown's Ghost Train at Thorpe Park.
•Discover the unnerving history of 19th-century surgery at the Old Operating Theatre.
•Descend into the horrifyingly haunted London Bridge Experience and London Tombs.
•Get up close to some of the world's most feared animals in London this Halloween, with In with the Spiders at ZSL London Zoo, and Snorkelling with Sharks at SEA LIFE London aquarium.
Horrible October half-term family fun
•Delve into the menacing world of the Dark Arts as the Harry Potter sets get a Halloween makeover at Warner Bros. Studio Tour London.
•See what's on for Halloween at London's family-friendly museums.
•Look out for more Halloween family events during the October school half-term.
Halloween parties and nights out in London
•Mingle with ghosts and witches at one of many Halloween parties in London's top nightclubs and bars.
•Sip on a wicked cocktail deep inside the foundations of an ancient church at the Pix Confessional Cocktail Club.
•Pick up a spooky costume for your Halloween night out at one of London's fancy dress shops.
Haunted London spots
•Grab a pint in an old haunted London pub, including The Grenadier, The Spaniards Inn and The Viaduct Tavern.
•Hear the screaming ghost of Catherine Howard in Hampton Court Palace's Haunted Gallery.
•Visit one of London's beautiful and eerie cemeteries.
•Catch a show at Theatre Royal Drury Lane, London's most haunted theatre.
For more London Halloween ideas and year-round scary activities, take a look at our 13 spooky things to do in London page, or browse our guide to what's on for more things to do during your visit.