The Winter Selection at Sam Wanamaker Playhouse
Until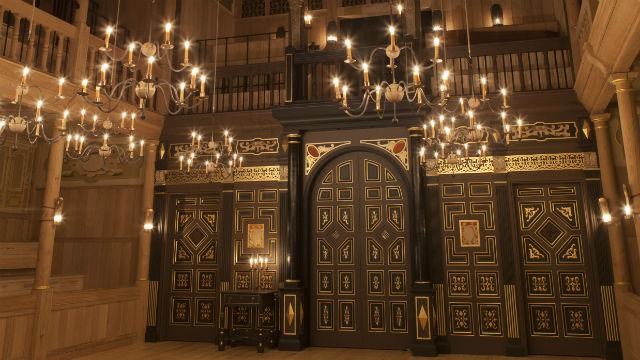 From romance and espionage to music and magic, experience an enticing season of performances at the intimate candlelit theatre next to Shakespeare's Globe.
Read More
About
See new shows and eclectic productions as the candlelit Sam Wanamaker Playhouse presents The Winter Selection.
Romantics Anonymous
Follow the misadventures of talented chocolate maker Angélique and of Jean-René, the boss of a chocolate factory, in a delicate love story on the search for happiness. 20 Oct-6 Jan
The Secret Theatre
Catch Anders Lustgarten's latest play about secrets, espionage and blackmail at the time of Queen Elizabeth I. 16 Nov-16 Dec
Apocalypse Meow: Crisis is Born
Expect nothing but the unexpected from this unusual Christmas show by cabaret sensation Meow Meow. Follow the artist's creative flair, from the tale of hilarious adventures to poignant reflections on loneliness and lost dreams. 20-31 Dec
All's Well That Ends Well
Relive Shakespeare's All's Well That Ends Well in a new production directed by Caroline Byrne, following her critically acclaimed The Turn of the Shrew at the Globe Theatre. 11 Jan-3 Mar
The Captive Queen
Rediscover John Dryden's Restoration drama Aureng-zebe with Barrie Rutter's engaging adaptation, which moves the setting from Mughal India to the woollen mills of the North of England. 2 Feb-4 Mar
Vivaldi's The Four Seasons – a Reimagining
Be amazed by the crystalline acoustic of Sam Wanamaker's Playhouse with Max Richter's reworking of the original masterpiece, in collaboration with Gyre & Gimble's master puppeteers.
9 Mar-21 Apr
The Little Matchgirl and Other Happier Tales
See Hans Christian Andersen's beloved stories come to life with this new production incorporating classics such as The Little Matchgirl, The Emperor's New Clothes, Thumbelina and The Princess and the Pea. 27 Mar-21 Apr
Venue Details & Map
Address

21 New Globe Walk

SE1 9DT